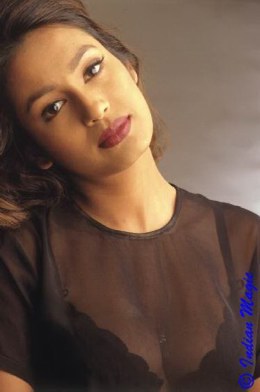 First Release
Well, this was Kashmira's first release, and a rather good one too. Soon after the film's release, Kash received excellent reviews from the media (...Shobha De too..!!), the industry people and of course her friends and family. This resulted in a barrage of questions thrown at the the makers of the film as to why there was no publicity or coverage given to her during the film's huge promotion.
Says Kash, " I don't know what went wrong. The people at Venus have always been very nice to me. At first, I thought, maybe, I didn't perform well enough in the film but after seeing the public reaction and what the media had to say I think I deserved a wee bit of publicity during the film's promotion. I believe that one should love one's work deeply and passionately. One might get hurt but it's the only way to live life completely. Work is work when you don't enjoy it. I enjoyed doing the film and what really matters is that the end result is looking excellent and people are accepting me as a good performer after this film."
She Tells Herself
Dusky model KASHMIRA SHAH, who made her Hindi film debut in Venus' Yes Boss recently, has proved that she's a fairly competent actress. For starters, she was a lot better than some of the more talented and experienced cast, including Shah Rukh and Juhi. Only one cant help wondering why Venus didn't bother to give to give the gorgeous girl any publicity.
Of course, we did hear that she was having some sort of a fling with one of the Venus bosses, and that just could be the reason. Either way, Kashmira shouldn't lose hope...she's got the talent, and that is what it takes to make it in this big, bad world of bollywood, right ?
I enjoyed watching the curvaceous Kashmira Shah who played Pancholi's bombshell-of-a-wife with zest and sophistication. A hard-edged, steely, Joan Collins-like performance.
A case of inspired casting (Aditya vs Kashmira) saved this mediocre film. Had they been played by say, Gulshan Grover and Ritu Shivpuri respectively, the film would've collapsed after the first ten minutes.